Leadership Development at a Global Insurance Company Background:
An Australian insurance company was acquired by the world's second largest insurer in 2014 and spent 2015-2018 going through the integration and re-branding process.
Coming into 2019, they wanted to re-focus on the leadership development of their current leaders and high potential team members.
To do this, they wanted to improve the self-reflection and continuous feedback loop and implement development plans for both the current and high potential leader levels. Fortunately, this was the focus of both their immediate head office and their global head office directive.
There was no globally offered feedback mechanism that met their needs, and while the parent company has some training programs on offer, participation in those programs was not available locally.
Why REACH Ecosystem:
Their first focus was on 360 feedback. However, they were cautious in their selection due to their current situation and past experiences with 360's.
Their Current Situation:
Because of the pause in feedback and leadership development during the acquisition process, they had some longer standing leaders, who were experienced in receiving feedback, and other newer leaders and the high potential leaders who had never been involved in the review process before.
They wanted to be mindful of that gap and find a tool that was flexible enough and suitable to use with the senior leaders, less experienced leaders and the high potentials.
Past Experiences:
Previous 360 tools they had used were time consuming, but were also very complex to interpret and debrief, so it was important to them that they found something that was easy to use and administer and then simple to debrief with all levels of leaders.
Key Selection Criteria:
The Implementation Experience:
In the REACH ecosystem, the person being 360 rated completes their REACH Psychometric profile as part of the process, so each person being rated had their own Leadership Profile generated as part of the process.
Once they had all been completed, we went through each person's Leadership Profile with their manager to confirm that the manager thought the profiles were a reasonable representation of the people; which they all did.
Then we used that same Leadership report with each of the leaders to develop their own awareness and used the coaching points provided to develop awareness of how their style impacted their leadership. The debriefs were simple for us to complete in-house and prepared the leaders well for the 360 feedback.
We circled back around with everyone, and ran the 360 debriefs with them as well, which played out just like we hoped. The 360 debriefs were easy to conduct with the clear reports and added value to the experienced senior leaders right through to the high potentials, who were new to feedback and leadership development of this style.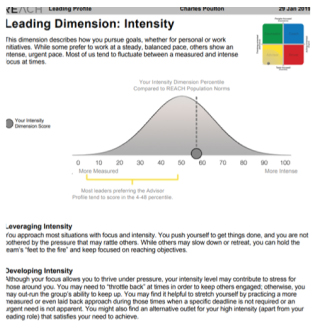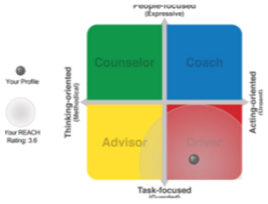 We had between 3 and 24 people participate in each 360 survey, with an average of 8 people (raters) conducting the 360's on each individual leader. This allowed the individual leaders to be rated by their direct reports and provided very concise data.
We learned that the leadership team has a healthy and diverse range of styles (see next page) with a REACH Quotient low of 2.75 and a high of 3.98.
The system was fast and simple, and it took each rater about 3-4 minutes to complete, which was a nice contrast from the last system we used previously.
Debriefing:
The debriefs were great, reflecting the diverse range of styles we have in our leadership team, who had a wide variety of development road maps.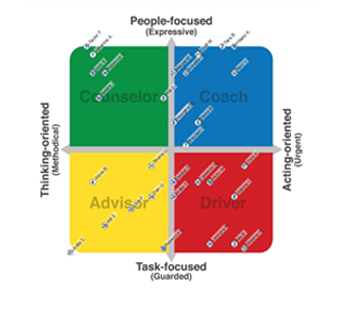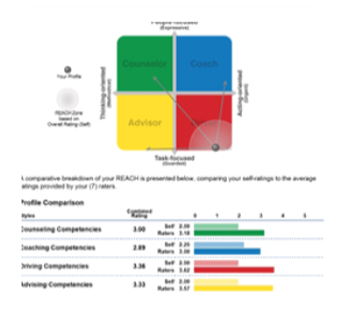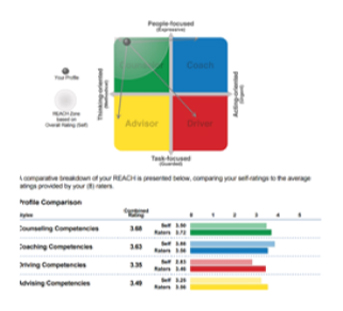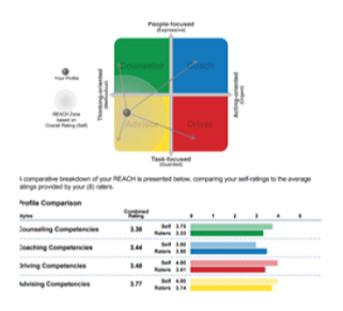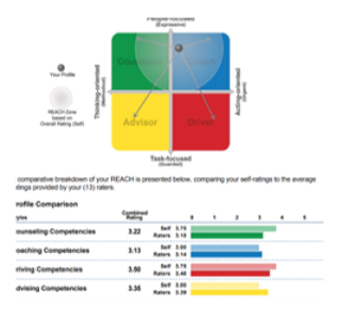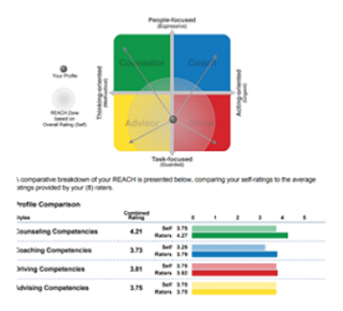 You could literally see the Johari windows (self-awareness) growing. Especially where some people discovered a large difference between their self-rated scoring compared to the ratings from others.
Sometimes they had inflated self-perception and sometimes the opposite.


People have seemed to naturally adopt the language and recognize the importance of the different competencies in performing effectively as team leader.